Recipe: Appetizing EasterBake Chocolate Mousse Cake (GF)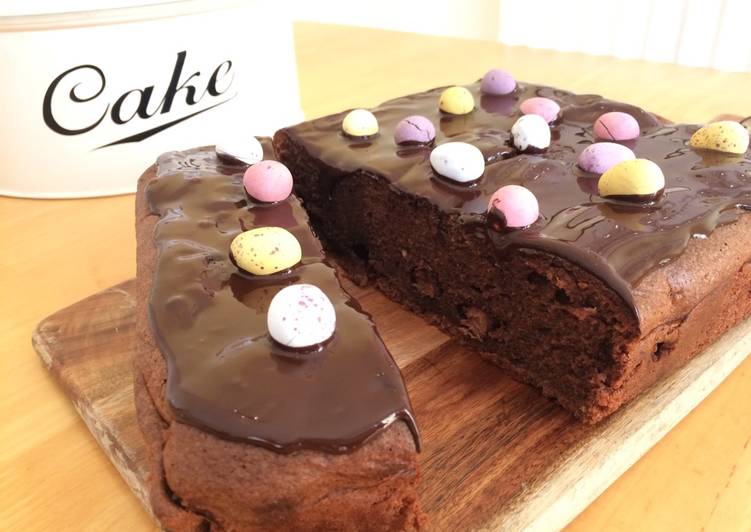 EasterBake Chocolate Mousse Cake (GF). Chocolate Mousse Cake Recipe, eggless and without oven. Learn how to make this decadent "chocolate mousse cake". This chocolate mousse cake is a patisserie-style glazed mousse torte.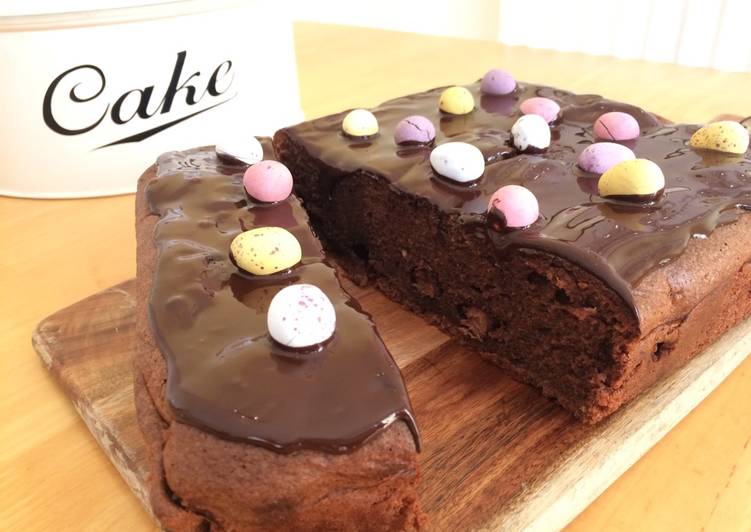 This gorgeous centrepiece has a flourless chocolate sponge base topped with rich chocolate mousse and a spun sugar nest. This dark chocolate mousse cake uses dark cocoa powder for extra rich flavor. Place bottom cake layer on your cake stand or serving plate. You can cook EasterBake Chocolate Mousse Cake (GF) using 8 ingredients and 6 steps. Here is how you achieve it.
Ingredients of EasterBake Chocolate Mousse Cake (GF)
You need 180 g of Bournville dark chocolate.
Prepare 175 mls of olive oil.
It's 50 g of caster sugar.
It's 6 of large eggs.
You need 100 g of gluten free white flour (or regular plain flour if preferred).
You need 1/2 tsp of xanthan gum (if using gluten free flour).
You need 90 g of mini eggs.
Prepare 100 g of dark chocolate (to decorate).
And it tastes even better than it looks. A decadent treat for the choco-holic in your life. Chocolate Mousse Cakes combine a moist and dense flourless chocolate with a rich and creamy chocolate mousse. Try to use a good quality chocolate, one that you enjoy eating on its' own.
EasterBake Chocolate Mousse Cake (GF) instructions
Pre-heat the oven to 180C and line a baking tin with parchment paper..
Break the chocolate into chunks and add to a microwave proof bowl. Add the oil and then heat on high, stirring every 30 seconds, until fully melted. Set this bowl to one side to cool..
In a large mixing bowl, whisk the egg yolks and sugar until fluffy. Pour the chocolate mixture into the egg yolks and whisk. Then whisk the flour into the chocolate batter..
In a separate mixing bowl, whisk the egg whites into stiff peaks. Then fold the egg whites into the chocolate batter. Stir with a metal spoon until the whites have been incorporated, but try not to knock the air out..
Pour the batter into the prepared baking tin. Bake in the centre of the oven for 40 minutes or until a skewer inserted into the cake comes out clean. Allow the cake to cool for ten minutes in the tin, then remove and allow to cool completely on a wire rack..
Break 100g of chocolate into chunks and place in a small microwave-proof bowl. Heat on high for approximately 2 minutes, stirring every 30 seconds until melted. Pour over the cake and decorate with mini eggs..
The cake is baked in a springform pan and then it's cut into individual. This is THE Chocolate Mousse Cake recipe. Soft and moist chocolate cake layer topped with super creamy chocolate mousse and soft chocolate ganache. Slowly mix in hot cocoa until combined. Transfer batter to the prepared baking pan.
(Visited 1 times, 1 visits today)