How to Make Yummy Auntie's Cauliflower and Chickpea Vegetarian Balti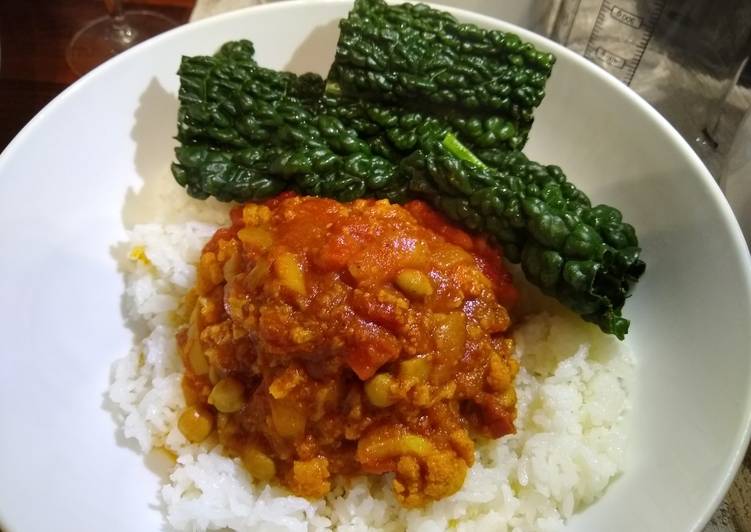 Auntie's Cauliflower and Chickpea Vegetarian Balti. Turn the heat to low, cover and simmer until the cauliflower is just tender. Add the green chillies and spinach and stir-fry for three more minutes until the spinach has wilted down. Learn how to make Cauliflower & chickpea balti and get the Smartpoints of the recipes.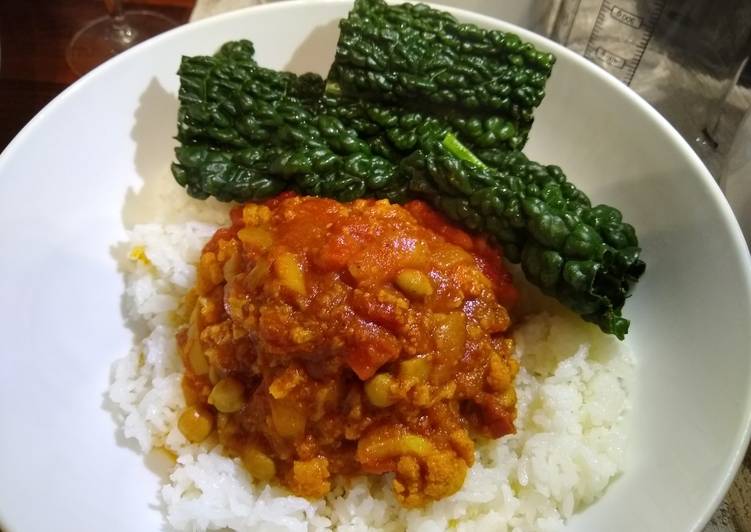 Taking the name from Baltistan, a mountainous region in northern Pakistan, balti curries often include paneer. Lime juice, ginger, jalapeño and parsley are the stars of this curried cauliflower and chickpea vegetarian, main-dish salad. Cauliflower is used readily in Indian food – the secret is not to overcook it. You can cook Auntie's Cauliflower and Chickpea Vegetarian Balti using 18 ingredients and 6 steps. Here is how you achieve that.
Ingredients of Auntie's Cauliflower and Chickpea Vegetarian Balti
Prepare 1 of whole head of cauliflower.
You need 1 of red pepper.
It's 1 of yellow pepper.
It's 3 of white onions.
Prepare 4 cloves of garlic.
It's 2 boxes of or tins of chopped tomatoes.
Prepare 1 tablespoon of tomato puree.
Prepare 1 tablespoon of Turkish red pepper paste (optional).
You need 1 of long green Turkish pepper (optional).
Prepare 3 tablespoons of Patak's Balti curry paste.
It's 1 tablespoon of cumin.
You need 1 tablespoon of smoked paprika.
Prepare 1 tablespoon of tumeric.
You need 2 of fresh Birdseye chillis.
It's 1 tablespoon of olive oil.
Prepare to taste of salt and pepper.
It's 1 litre of boiling water.
You need 1 can of cooked chickpeas, drained.
The smoky, caramelized cauliflower and crunchy chickpeas play off of the bright, crisp apple and fresh herb salad, which are then both tied together with briny, salty feta cheese crumbles. Add the roasted cauliflower and chickpeas to the ras el hanout vinaigrette and toss to combine. Be the first to review this recipe. Reciped adapted from Real Simple by Laura Ratliff and Ryan Smith.
Auntie's Cauliflower and Chickpea Vegetarian Balti step by step
Prepare by chopping the garlic, onions, peppers and cauliflower..
Fry the oil and spices together over a medium heat..
Add the garlic, onions and peppers. Fry until slightly brown. Add the Balti paste and stir throughly..
Rinse the chickpeas in cold running water. Add chickpeas to the pot and reduce the heat..
Dissolve the paste and puree in a litre of hot water. Add to the pot. Then add chopped tomatoes to the pot. Stir throughly..
Add the cauliflower florets and stir throughly (ensuring the florets are fully submerged). Cook on medium for 3 hours in a slow cooker / multicooker. It should reduce by 15%. We recommend to serve with rice and steamed greens..
I did not have spinach on hand and used some leftover collards. I also used chicken broth instead of water. Add the ginger, cauliflower, chickpeas and onions, and toss to coat everything evenly. Place on a sheet tray and season with salt and pepper. Serve with cilantro sprigs and finish with a squeeze of the fresh lime juice.
(Visited 3 times, 1 visits today)