Recipe: Yummy Stir Fry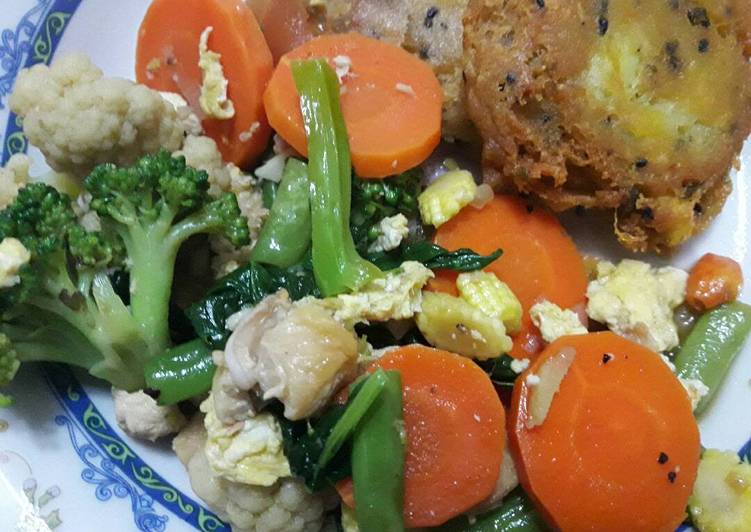 Stir Fry.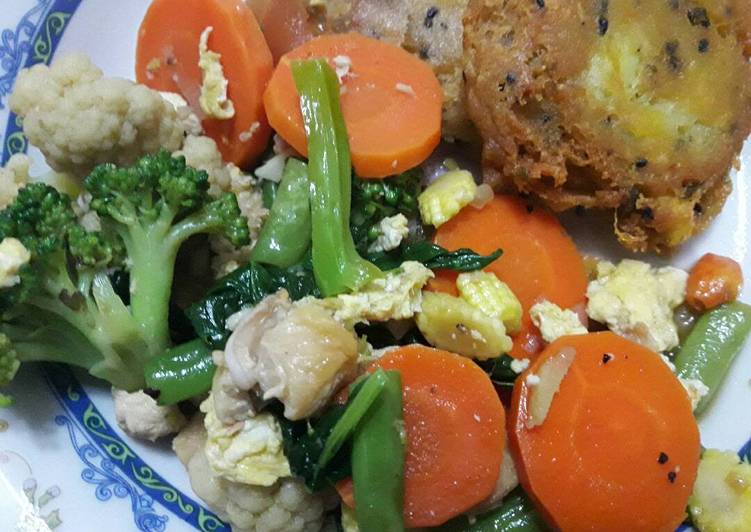 You can cook Stir Fry using 20 ingredients and 5 steps. Here is how you achieve that.
Ingredients of Stir Fry
You need 100 gr of chicken breast, cubed.
You need 1/2 cup of chopped carrot.
Prepare 1/2 cup of green bean, chop to bite size pieces.
Prepare 1 cup of broccoli.
Prepare 1 cup of cauliflower.
You need 1/4 cup of baby corn.
You need 1 of egg, scrambled.
You need 2 cloves of garlic grated.
Prepare 1 of onion finely chopped.
It's 2 cm of galangal.
It's 1 of bay leave.
It's of season (salt, pepper, and sugar).
Prepare 3 tbs of soy sauce.
It's 1 tbs of sesame oil.
It's 3 tbs of extra virgin coconut oil.
It's 50 ml of water.
Prepare 1 of grated candle nut.
It's 1 tbs of cayenne pepper.
Prepare 1 cup of sweet mustard leaves.
Prepare of mix 1 tbs corn flours to 2 tbs of water.
Stir Fry instructions
Heat oil in medium high then add onion, galangal, bay leave and cook until onion translucent.
Add garlic and candle nut then stir, add in a pinch of salt and add vegs (carrot, green bean, baby corn, broccoli florets, cauliflower, mustard leaves) and water then stir well continuously fo2 or 3 minutes.
Add soy sauce, sesame oil, and sugar and pepper or little bit of salt if required then mix it all around.
Cook for 30 second, add corn flour mixture and stir for another 30 seconds then turn off the heat.
Ready to serve.
(Visited 1 times, 1 visits today)