Recipe: Delicious Chocolate Coconut Clusters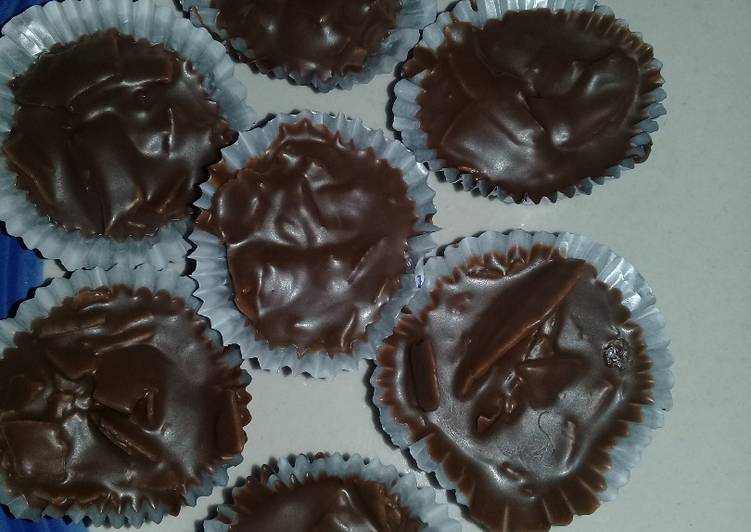 Chocolate Coconut Clusters. Bite-sized, too, which is helpful for portion control. (Unless you throw caution to the wind and eat a whole bunch of them – cuz coconut has good fiber. Just a friendly warning.) Stir the coconut into the melted chocolate until well combined. Use a small cookie scoop (or two spoons) to drop clusters onto prepared baking sheet in desired size.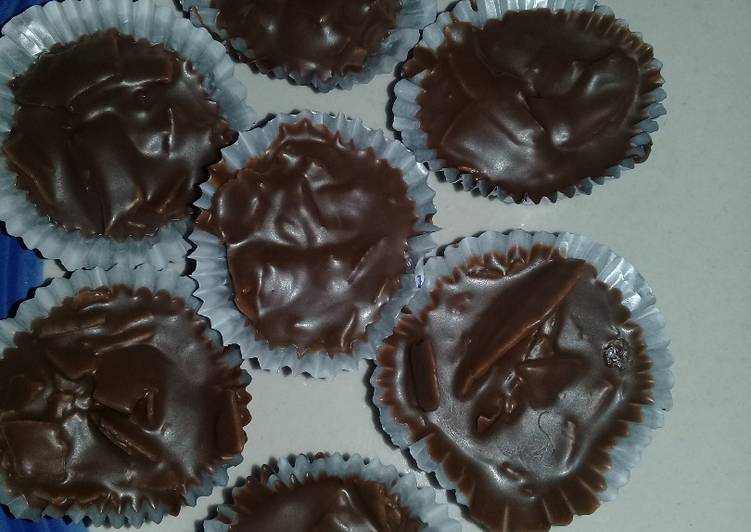 Melt the chocolate chips in the microwave according to the package directions. Add the melted chocolate to the coconut mixture; stir well. Drop the mixture by heaping teaspoonfuls into the candy cups (or directly onto lined cookie sheets). You can cook Chocolate Coconut Clusters using 2 ingredients and 3 steps. Here is how you achieve it.
Ingredients of Chocolate Coconut Clusters
You need of Melted chocolate.
You need of Desicated/Sliced coconut.
Melt chocolate in microwave or in double boiler. Drop by spoonfuls onto wax paper lined tray. Delicious and decadent, these coconut clusters are made with unsweetened coconut and with dark chocolate. The combination of chocolate and coconut is a classic one, and in this tasty recipe, it's also very simple – you simply coat coconut flakes with melted dark chocolate, divide the mixture between paper liners, then allow it to set.
Chocolate Coconut Clusters step by step
Roast your coconut either on the stove or in the oven for less then 2 minutes. Remove from stove/Oven amd leave it to cool down..
Add your coconut into your melted chocolate. Mix well until theres no coconut visible..
Lay out your mini cupcake holders. Spoon the mixture into the holders. Place it in the fridge for half an hour. Remove from fridge and enjoy!!!.
Stir sugar, cocoa powder, milk, and margarine together in a saucepan over medium heat until the mixture is smooth. Pour over the oats and coconut and quickly mix to coat. Drop by tablespoon onto prepared baking sheet; let cookies cool and harden. In a heavy saucepan over low heat, cook and stir candy coating and chips until melted and smooth. Drop by rounded tablespoonfuls onto waxed paper-lined baking sheets.
(Visited 1 times, 1 visits today)